Introduction & Objectives
North Atlantic humpback whales (Megaptera novaeangliae) of the West Indies distinct population segment (Bettridge et al. 2015) migrate from six northern feeding grounds to Caribbean Sea waters during the winter months (Waring et al. 2013). Some whales do not take part in this migration and use the Mid-Atlantic region to over-winter (Barco et al. 2002). Understanding the occurrence and behavior of humpback whales in the vicinity of U.S. Navy training and vessel transiting activities off the coast of Virginia is important in mitigating potentially harmful impacts on the species.

Humpback whale sighting information off the Virginia Beach area has been collected with various methods and sporadic field effort, with shore-based counts in 1991 and vessel-based photo-identification efforts in 1992 (Swingle et al. 1993), and further cataloging efforts using photos taken on whale-watching excursions and from stranded whales (Barco et al. 2002). Data have shown some individuals returning in subsequent years, and it is suggested that the area may act as a supplemental winter feeding grounds for the returning whales (Barco et al. 2002). Photos of whales sighted off Virginia were matched to cataloged whales from the Gulf of Maine, Newfoundland, and the Gulf of St. Lawrence regions (Barco et al. 2002). Information on the movements of individuals within this region are very limited, and these data are important to assess the potential for disturbance to humpback whales found the U.S. Navy training operations and high-traffic areas in the Chesapeake Bay and coastal waters.

The objectives of this project under the Navy's Marine Species Monitoring Program are to establish baseline occurrence and behavior data for humpback whales in the Hampton Roads mid-Atlantic region by addressing the following questions:

• What age classes (juveniles, sub-adults, adults) are utilizing the waters within and adjacent to the mouth of the Chesapeake Bay?
     
• Do humpback whales exhibit site-fidelity over periods of days to years?

• Do humpback whales congregate in specific high-traffic and/or high-use Navy training areas?

• Do humpback whales spend significant time within or move through areas of U.S. Navy live-fire and mine neutralization exercise (MINEX) training)?
LITERATURE CITED
Barco, S.G., McLellan, W.A., Allen, J.M., Asmutis-Silia, R.A., Mallon-Day, R., Meagher, E.M., Pabst, D.A., Robbins, J., Seton, R.E., Swingle, W.M., Weinrich, M.T., and Clapham, P.J. (2002) Population identity of humpback whales (Megaptera novaeangliae) in the waters of the US mid-Atlantic states. Journal of Cetacean Research Management, 4(2), 135-141. 

Swingle, W.M., Barco, S.G., and Pitchford, T.D. (1993) Appearance of juvenile humpback whales feeding in the nearshore waters of Virginia. Marine Mammal Science, 9(3), 309-315. 

Waring, G.T., Josephson, E., Maze-Foley, K., and Rosel, P.E. (2013) U.S. Atlantic and Gulf of Mexico marine mammal stock assessments -- 2012. NOAA Technical Memorandum NMFS-NE-221. National Marine Fisheries Service, Woods Hole, MA. 319 pp.
Technical Approach
This project focuses on nearshore non-systematic visual surveys from a small vessel with associated photo identification, biopsy sampling and tagging using Wildlife Computers (Redmond, Washington) Smart Position and Temperature (SPOT6) Argos-linked satellite tags as well as SPLASH-F Fastloc© GPS tags in the Low Impact Minimally Percutaneous Electronic Transmitter (LIMPET) configuration (Andrews et al. 2008). These small tags measuring only two inches in length and height and less than an inch wide, attach to the dorsal fin or base of the dorsal fin by two sterilized darts. This placement allows frequent transmissions to the Argos satellites when the animals surface, providing locations throughout the day on the whereabouts of the tagged individuals. Tags are designed to eventually fall off the animal after a period of weeks.  Primary objectives of this project include:

1. Collect baseline occurrence data (location, sex, group size, behavior) of humpback whales (and other species of baleen whales opportunistically)

2. Obtain identification photographs of humpback whales for inclusion in regional and local catalogs.

3. Collect biopsy samples of humpback whales for sex determination, mitochondrial control region sequencing, and microsatellite genotyping of tissue samples, and stable isotope analysis to determine foraging related to prey consumption.

4. Conduct satellite tagging to document seasonal humpback whale movement patterns in the nearshore waters off Virginia Beach, specifically whether the whales spend significant time in areas of high shipping traffic and/or areas of U.S. Navy training exercises.

The study area includes waters in and around the mouth of the Chesapeake Bay as well as the W-50 MINEX region off Virginia Beach. Although the operating area for each survey is chosen depending on weather conditions and reports of humpback whales or other baleen whales in the area, there will always remain a focus on areas of high Navy use, such as the W-50a MINEX zone and shipping channels. During each encounter, every effort will be made to collect identification photographs of the dorsal fins and tail flukes (when possible). Based on the animal's identification, satellite tags may be deployed and biopsy samples may be collected, depending on what data has previously been collected from that individual.
Progress & Results
Researchers from HDR and the U.S. Navy conducted 72 nearshore surveys between January 2015 and March 2017 totaling ~ 476 hours of effort and covering 6,797 km of trackline. During these surveys, there were 322 baleen whale sightings, including 310 sightings of humpback whales totaling 106 individuals, 8 sightings of fin whales (Balaenoptera physalus) totaling six individuals, 3 sightings of minke whales (Balaenoptera acutorostrata) totaling two individuals, and one sighting of an unidentified large whale. Fifty-three (53) biopsy samples were collected and 35 satellite tags were deployed (32 SPOT6 and 3 SPLASH-F).

As of October 2017, there have been 106 unique humpback whales photo-identified during the course of this project. Thirty-one (31) individuals were identified during the first year of effort (2014/2015), 38 were identified during the second year of effort (2015/2016) (including six re-sights from the previous year) and 58 were identified during the third year of effort (2016/2017) (including 16 re-sightings from the previous two years). Approximately 71.7 percent (76 of 106) of individuals were estimated to be juveniles based on size assessment in the field. Images of flukes have been submitted to Allied Whale and fluke and dorsal fin images were shared with the Virginia Aquarium for matching. Although matching for these images is still underway, preliminary results from Allied Whale indicate at least two known matches to Gulf of Maine individuals, as well as one match to a Newfoundland animal  and one match to a St. Pierre and Miquelon animal.

Satellite tags transmitted 2.7-43.8 (mean = 13.9) days. Tagging results show that the area near the mouth of the Chesapeake Bay is heavily utilized by humpbacks whales. Nearly a quarter (24.4%) of all filtered tag locations were inside shipping channels and 7.7% were within the W-50 MINEX range. These results indicate that habitat preference directly overlaps with high-traffic areas, which can have deadly consequences.

During the 2015/2106 field season, four whales were encountered with fresh injuries, likely from vessel strikes. During the 2016/2017 field season three whales died of vessel-related injuries over an 8-day period. In April 2017 the National Marine Fisheries Service declared an Unusual Mortality Event (UME) for humpback whales between Maine and North Carolina, demonstrating the need for continued research on animals in this region.

The 2017/2018 field season will be commencing shortly.   The research team hopes to deploy another 15 satellite tags during the fourth field season.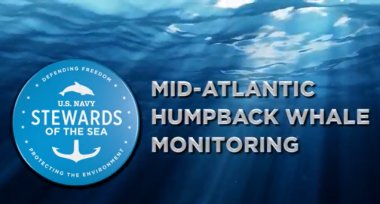 Project summary video