Turtle Tagging Season Has Begun!
Posted on May 18, 2015

Researchers from VAQ prepare to make a dip-net capture attempt

The 2015 field season has begun for the sea turtle tagging project! This work is part of a collaborative research project with the Virginia Aquarium & Marine Science Center (VAQ) and NAVFAC Atlantic, and is sponsored by United States Fleet Forces Command. The two organizations are working together to collect satellite and acoustic tag data in order to better understand how sea turtles utilize habitat in the Chesapeake Bay and coastal Virginia waters. Currently, our understanding of sea turtle movement and habitat utilization in this region is limited. Further information on the movements, habitat use, and seasonality of the sea turtles in this region will allow for a better assessment of the impacts that U.S. Navy activities may have on these protected species.

Staff from VAQ and NAVFAC Atlantic had a successful first few days searching for sea turtles in the mid-Atlantic waters off of Virginia Beach, VA. On Friday, May 15th, a total of 7 sea turtles were sighted (1 Leatherback, 1 Kemp's Ridley, 3 Loggerheads and 2 unidentified turtles that were sighted swimming below the surface). Out of the 7 sightings, the research team attempted to capture 2 Loggerheads using a dip-net and was successful both times. Once the turtles were brought onto the research vessel, they received a health assessment to see if the turtles were healthy enough for tagging and release. Fortunately, both turtles were deemed healthy and released with PIT tags, flipper tags, and satellite transmitters. The 2 Loggerhead sea turtles were named Roger Williams and Johnny Cash.
The success continued on Monday, May 18th when, after a slow morning and early afternoon only sighting a few turtles that quickly dove beneath the surface, the team sighted and captured a Kemp's ridley sea turtle on the way back to port. Halfway through the health assessment for that turtle, the captain and mate spotted another Kemp's ridley. Sue Barco, the Principle Investigator on the project, quickly decided to send a team after the second turtle and a capture was successfully made after a quick scramble by Andrew DiMatteo of NAVFAC LANT and Sarah Mallette of VAQ.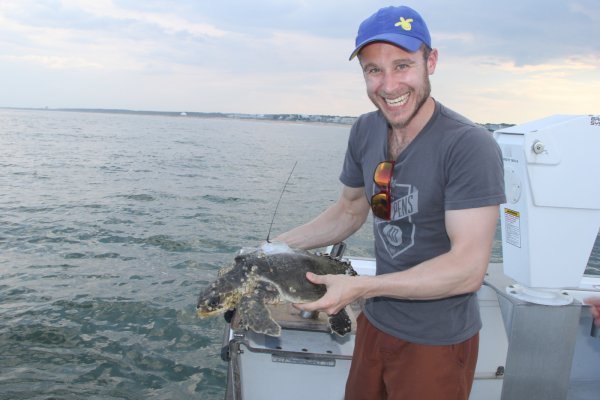 Andrew DiMatteo prepares to release a Kemp's ridley outfitted with a solar powered Argos tracking tag
Both Kemp's ridleys were deemed healthy and were fitted with solar powered Argos satellite tags made by Microwave Telemetry, Inc. – a new technology being tested for effectiveness in tagging small turtles. These tags have been tested on neonate loggerhead turtle hatchlings raised at VAQ  in collaboration with Kate Mansfield, at the University of Central Florida and we are excited to try them on these small juvenile Kemp's ridleys. The lack of a large battery means smaller tags can be fit on animals too small for traditional satellite tags. We are hoping that the turtles spend enough time at or near the surface to keep the tag functioning for several months.  We are excited that the Navy sees a need to better understand the movements of these small but critically endangered sea turtles and is willing to try " said Barco. The turtles were named Bob Marley and Iggy Pop. You can see all the tracks for these and other turtles that are part of this project at http://www.seaturtle.org/tracking/?project_id=917.
This project is being conducted under NMFS Permit No. 16134.