'Purple Heart' sea turtle released back into the ocean
Posted on June 12, 2017
On Memorial Day, a juvenile Kemp's ridley sea turtle was incidentally hooked by a recreational fisherman at the Ocean View Fishing Pier in Norfolk, Virginia. As a result, the Virginia Aquarium & Marine Science Center's Stranding Response Team was called in to rescue the sea turtle. The turtle, aptly named 'Purple Heart,' had the fishing hook removed from its upper esophagus. The turtle was under sedation and the procedure was completed with no complications. Upon successful recovery, the turtle was not only cleared for release, but also for satellite tagging as part of an ongoing research project funded by the U.S. Navy.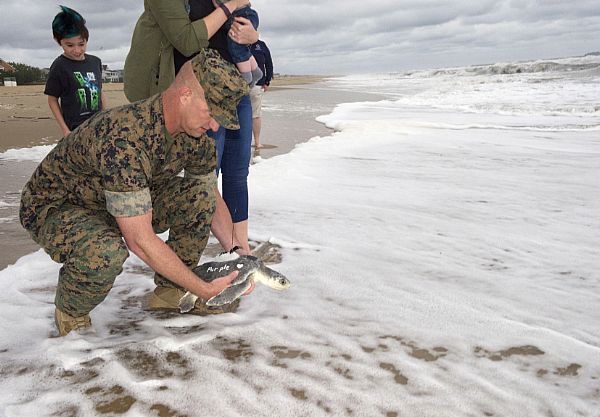 Trish Carrier, the annual fund manager for the aquarium and a spouse of a retired U.S. Marine, reached out to find a Purple Heart recipient who would be available to help with the release. Gunnery Sgt. Paul Worley,  a 2009 Purple Heart recipient for being wounded during a tour in Afghanistan, volunteered to release the turtle back to sea at the Virginia Beach oceanfront.
Prior to being released back into the ocean, 'Purple Heart' was tagged as part of a joint Virginia Aquarium & Marine Science Center Foundation (VAQF) - U.S. Navy research project. VAQF works with U.S. Fleet Forces Command (USFF) and Naval Facilities Engineering Command (NAVFAC) Atlantic to track juvenile loggerhead, Kemp's ridley and green sea turtles by using a combination of satellite and acoustic transmitters. Funding for this work is provided by USFF, while VAQF and NAVFAC Atlantic analyze the telemetry data in order to understand how sea turtles use the Chesapeake Bay and coastal Virginia waters.
You can find more information about this project at the U.S. Navy's Marine Species Monitoring Program web portal. You can also track Purple Heart's movements by visiting seaturtle.org.