Right whales are on the move!
Posted on November 23, 2022
UPDATE #2-  Right whale #2605 "Smoke" was sighted approximately 7 miles east of St. Catherine's Island, GA on December 26th and 27th, 2022 by the Clearwater Marine Aquarium team with her new calf! Smoke is 27 years old and this is her fourth known calf. For a list of all mom-calf pairs for the 2022-2023 season, see this blog by the New England Aquarium.
UPDATE - Caterpillar was sighted about 8 nmi off St. Catherine's Island, GA on December 8 by an aerial survey team from Clearwater Marine Aquarium Research Institute.  She was no longer with Smoke and did not have a calf with her yet but we are keeping our fingers crossed!
***************************************************************************************************
Every year beginning in early November a portion of the endangered North Atlantic right whale population begins a southbound migration from their summer feeding areas off the coast of New England and Canada.  Some of these individuals are pregnant females destined to give birth to babies in the warm shallow waters off the Southeastern U.S.  Right whales are particularly susceptible to vessel strikes and as a result a series of Seasonal Management Areas has been established along Mid-Atlantic coast from November 1 through April 30 where all vessels 65 feet or longer must travel at 10 knots or less. 
Yesterday a research team from HDR Inc. and Naval Facilities Engineering Systems Command Atlantic documented the first confirmed visual sighting of migrating right whales in the Mid-Atlantic this season, less than a mile off the coast near the VA/NC border.  The researchers were conducing an aerial survey with the primary purpose of locating right whales and humpback whales. Sighting locations are then passed on to another field team on a small vessel who would conduct additional observations of behavior, size and body condition, collect photos for identification, and potentially deploy a tracking or acoustic monitoring tag.
'Smoke' and 'Caterpillar' sighted less than a mile off the coast of southern Virginia presumably making their way to the calving area off the Southeastern U.S.
The two individuals sighted are both known to be reproductive age females - 'Smoke' and 'Caterpillar' - and therefore were not candidates for satellite telemetry tracking tags but the field team did successfully deploy short-term suction cup tag that will collect fine scale movement and dive data, audio recordings of any vocalizations or sounds that the whales make, and high definition video.  Very little is know about the behavior of migrating right whales, particularly acoustics, so this tag represents an important opportunity to help address that data gap.  The tag is programmed to release from the animal within 24 hours at which point the researchers will need to track it down in the ocean with the help of satellites and a VHF receiver in order to download the precious data.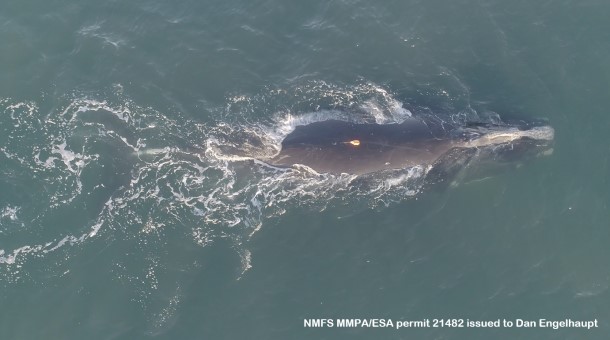 'Smoke' with a suction cup tag attached to her back for recording movements, audio, and high definition video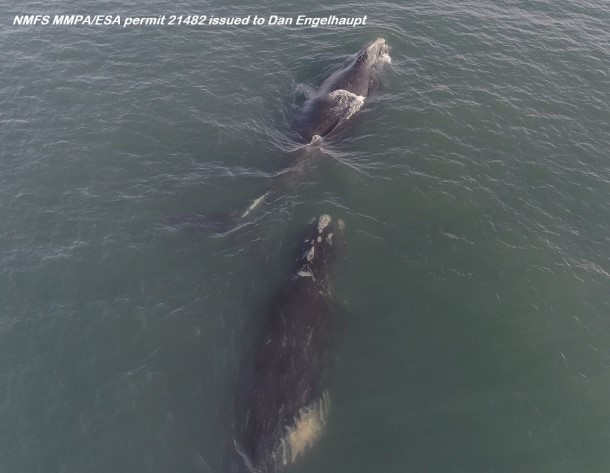 Image from a drone showing propeller scars on the right side of 'Caterpillar' from a previous vessel interaction
More details on this encounter and the team that made it all happen - Mid-Atlantic Baleen Whale Monitoring Project. Video from the tag can be found here. 
This research is conducted under NMFS MMPA/ESA permit 21482 issued to Dan Engelhaupt.